5 Golf Tips for Fall 2022
There's nothing quite like the scenery of golf courses in the fall. Trees are crowned by colorful leaves and temperatures are slowly starting to dip in most places. For all the beauty it offers, fall golf also provides plenty of challenges to even the best of golfers, which is why they need to adjust their game.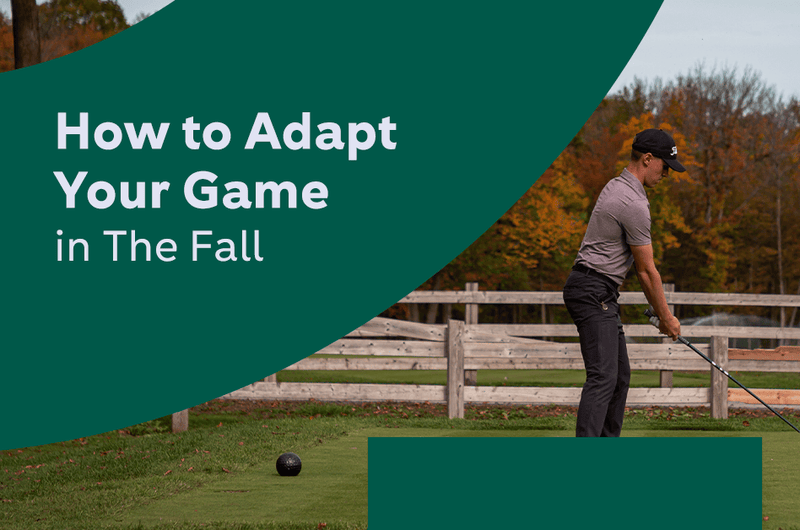 Much like playing golf in the rain, playing in the fall is quite different from playing on a warm and sunny summer day. Not only are rain and humidity much more of a factor, but high winds, cold temperatures, and even frost can hinder your performance in the fall.
Since golf courses are so beautiful at this time of the year, it's understandable that many golfers will want to head out and play, regardless of the temperature. For these bold golfers who are willing to brave anything, here's a guide that will help you adjust your game for the fall.
To help you adjust your golf game in the fall this guide will cover:
The performance changes from your equipment in the fall
The different challenges of fall weather on the course
The physical challenges that come with playing golf in the fall
1. Should you use a soft golf ball in the fall?
Yes, the average golfer should consider using a softer golf ball when playing in colder weather. Compression is more difficult to generate when temperatures get colder, making those harder balls even more difficult to compress.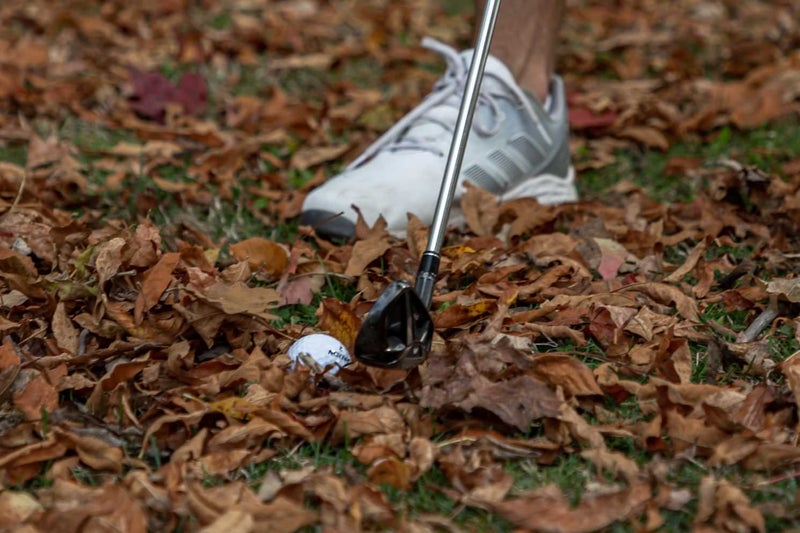 Opting for a softer version of the golf ball you already use (a ProV1x user should try out a ProV1 in colder weather) will allow you to have a better feel for the ball, both on the tee box and around the green.
Don't forget about recycled golf balls! They are perfect in the fall. The performance gap between brand-new and recycled golf balls is even less apparent when playing in colder temperatures. Plus, you won't feel as bad losing recycled golf balls as they are much more affordable to replace.
You may also want to consider using neon-colored golf balls to make it easier for yourself when you're looking for your golf ball through the leaves on the ground. Just be mindful of the color you'll be picking for these golf balls. You'll generally want to avoid green ones as they blend amongst the leaves and the longer grass.
Models of softer golf balls you should add to your set in the fall:
Titleist AVX
Callaway Chrome Soft
TaylorMade Tour Response
2. Do I need to adjust my golf club selection in the fall?
You absolutely need to adjust your club selection process in the fall as both your clubs and your golf balls won't provide the same type of performance as they do in the summer. Additionally, you also need to account for all the elements that come along with fall weather.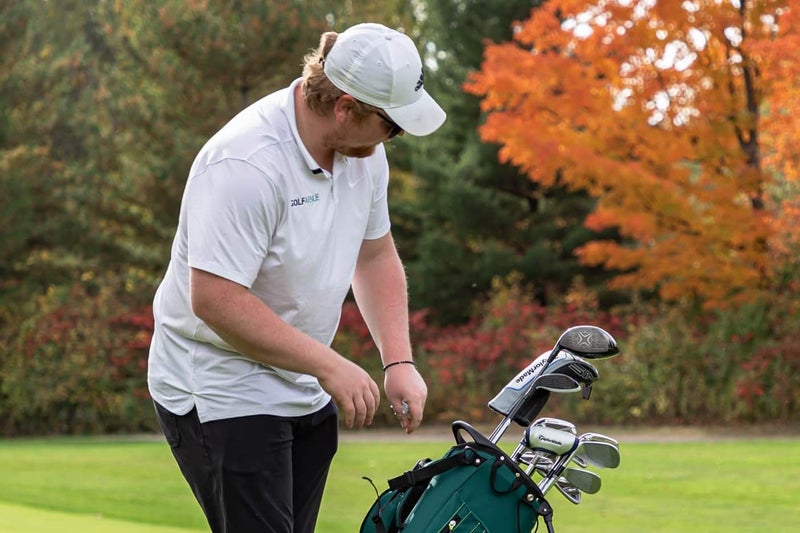 The colder fall air is much denser than the humid summer air, which means that your ball won't travel as far in the air because of the additional friction. In other words, you'll have to reach for longer clubs than the ones you would usually use, especially on approach shots with your irons.
Gaps of 10-15 degrees (depending on if you work with Celsius or Fahrenheit) will lead to a loss of two to three yards. This means that if you fly your 7-iron 160 yards on a normal summer day (about 25ºC or 80ºF), you might lose up to 9 yards if you're playing at temperatures just above freezing point.
Using this logic, you'll want to club up by at least one club if you're playing on a very chilly day. When you factor in the weather and the conditions that come along with it, most notably strong winds, you might need to double down and take an even longer club.
3. How do I adjust my decision-making process on the golf course in the fall?
Conditions and weather need to be at the top of your mind when you're making decisions on the golf course. Adjusting your equipment is important but adjusting your decisions on the course according to weather and the elements will be just as critical.
As we've already established, the dense fall air will limit the distance your golf ball travels off the ground, but you'll also need to adapt to greens as they'll respond differently throughout the day. You need to be able to adjust your game and your strategy on the fly and as the playing conditions evolve.
Here's why you need to have weather as the primary focus for your decision-making process on the course in the fall:
In the morning, especially when dew is still glistening on the green, your putts won't roll as much as usual because the humid grass will stop the ball's forward momentum. Some greens might even fall victim to weather too cold to even be played on bringing up the dreaded frost. On other hand, if you do play on a very cold green that is covered in humidity or dew, be careful as they'll feel like an ice rink for your golf balls. Be sure to load up on all the key putting tips before heading back on the course.
Since the course is likely to be softer than usual once the sun comes out, wedges with a higher degree of bounce will help you avoid chunky chips. This change is not a must, but you should consider using wedges with a bounce of 10 degrees or more. The bigger the bounce, the easier it'll be to have your wedge slide across the grass rather than dig right into the ground. To perfect your chipping technique, be sure to explore helpful wedges tips to avoid digging into the ground.
The two situations listed above are perfect examples of why course conditions and weather need to be your go-to when it comes to decision-making when you're on the golf course.
In the first case, the level of humidity of the grass, and the time of day, will have a huge impact on the outcomes of your stroke. Roll will be limited on longer strikes, spin rates will be more difficult to generate if your ball is wet, and your ball is more likely to plug into the ground where the ground is soft.
4. How do you stay warm on the course when playing golf in the fall?
Layer up! Wearing multiple layers in the fall will allow you to shed some of them as temperatures dip or add on some more as they rise throughout the day. Your best bet when dressing up for fall golf will be to turn to waterproof apparel and golf shoes as they have the best chance to keep you dry, regardless of the weather.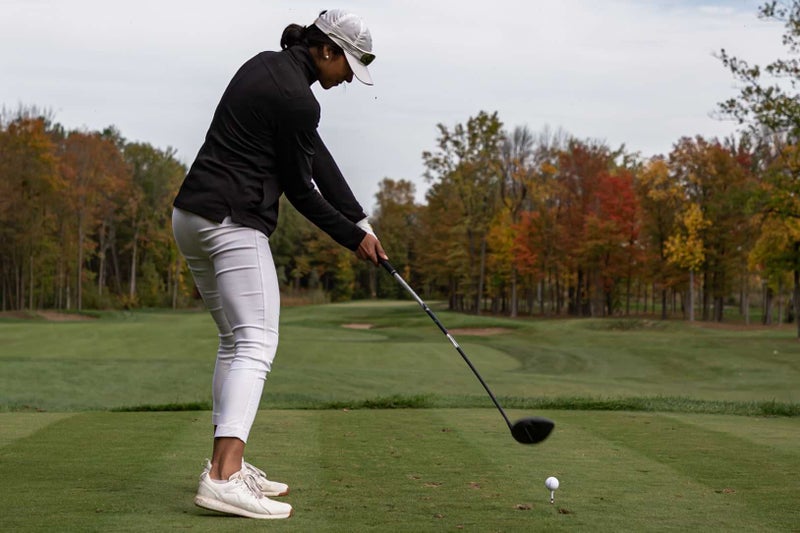 Having the right essentials for fall golf in your bag will contribute to making your life easier on the golf course. These essentials should provide you with more comfort while also limiting any physical issues that could be linked to the weather conditions of the fall.
If you feel trapped by the layers you're wearing, this probably means that you're wearing too many of them or that their size is not right for you. To counter these issues, there's another solution that can help keep your body warm.
5. Can walking help keep you warm when playing golf in the fall?
Absolutely! If you're heavily affected by the cold conditions of the fall but have an aversion to wearing multiple layers, you need to walk the golf course. It's the best way to keep up your body's temperature and it even allows you to exercise a little at the same time.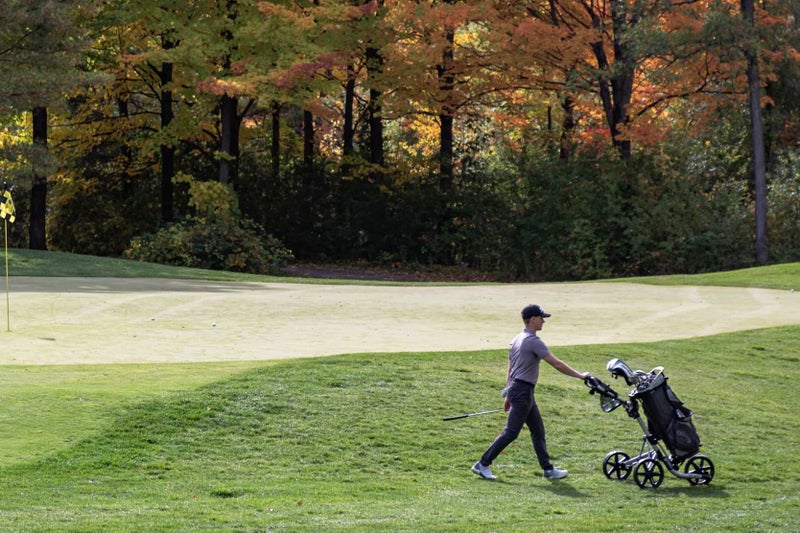 Using an electric cart is wise if you have a hard time walking, but you'll have to deal with a cold head breeze when you drive around.
Instead of freezing yourself in the cart, bring your pushcart, or rent one from the club, and use your legs to get around the course and maintain a comfortable body temperature.
Even though you'll be producing a lot of body heat, don't be shy to use hand-warming pouches to keep your digits warm. Keeping your body and your hands warm will help you maintain a better grip on the club as well as allow your body to swing freely at any moment.
By following the advice listed in this guide your fall golf experience should be much more enjoyable. You should have a better understanding of the differences in performance between your clubs from the summer to the fall. Your decisions should also be wiser now that you know that course conditions are so key in the fall.
Finally, if you need to freshen up on the essentials which you should have with you when playing in the fall, be sure to check out Golf Avenue's guide on the 12 fall golf essentials to carry in your bag.
Until next time,
The Golf Avenue Team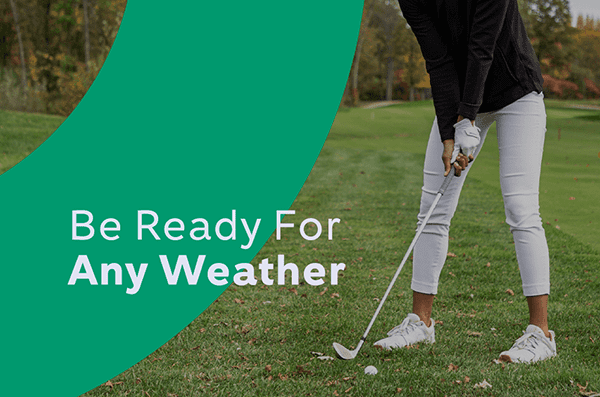 What clothes should you wear to golf? What about during spring, summer, fall, and winter? Find out what to wear in our seasonal guide on how to dress for golf.