Ultimate Golf Clothing Guide - Winter to Summer
The game of golf can be pretty challenging on its own, but when you have to brave the elements, the challenge grows even larger.




To make sure that the weather doesn't get the best of you on the course, we came up with a guide to help you dress properly in every season. Here's how we break it down:
Spring
Summer
Fall
Winter
Spring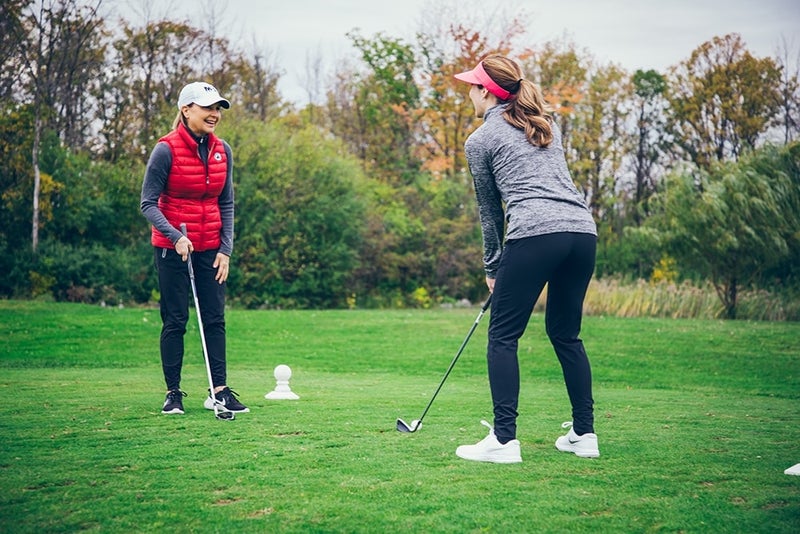 Dressing up for the Spring isn't too complicated, but it does require some preparation if you want to be ready for any situation. The main key when it comes to dressing up for golf in the Spring is to have options at your disposal.
Simply put, weather forecasts tend to change quickly in the spring and you'll want to be prepared for any temperatures.
What to wear to golf in the Spring:
Beanie or regular golf hat – Depending on the weather and your preference. You can also opt for the mythical beanie over hat combo;
Golf polo – Short sleeves or long sleeves, it's up to your preference;
An extra top layer – Whether that'd be a ¾ zip-up or a hoodie;
An additional shell – Many golf jackets tend to be thinner, but are designed to deflect the wind, which will serve you well with the strong winds in the spring;
A pair of golf pants – If you're a brave one, you can opt to wear shorts, but most people will appreciate the warmth of the pants;
A dark-colored pair of spiked golf shoes – The spikes are not a necessity, though you will appreciate them on the wet spring grass. You should strongly consider the dark-colored shoes as the courses will likely be muddied from the melting snow and the rain.
The items listed above are the bare necessities when it comes to playing golf in the Spring, but if you want to guarantee your comfort during a round, here are some extra pieces of clothing we suggest you pack with you:
What to carry in your golf bag in the Spring:
An extra pair of socks – Especially if your golf shoes are a little older and let the water come through. Also, there's no feeling like putting on a fresh pair of socks at the turn;
Pack up the rain gear – You most likely won't need to use it, but as we've established, weather can change at any moment in the Spring;
An extra glove or a pair of rain gloves – While you should always carry those, they'll come particularly handy if rain starts to pour.
Summer
Dressing up for golf in the summer is one of the easiest tasks of them all as all you'll need, depending on the weather forecast, are the golfer's bare necessities. While you may not need a lot to dress for golf in the summer, it's also your best opportunity to let your personality shine through your looks on the course.
For those still wondering, here's what we mean when we bring up the bare necessities:
What to wear to golf in the Summer:
A regular golf hat or a wide-brimmed hat – To protect your scalp and your face from the harsh rays of the sun;
A golf shirt or polo – We suggest you prioritize short sleeves options on warmer days, but make sure to pack the sunscreen;
Sports dress – Some players like the feeling of freedom that these dresses provide them, which we certainly understand on hotter days;
A pair of golf shorts or a golf skirt – To work on that calf and lower leg tan. If you can handle the heat, a pair of pants will do the job;
A pair of golf shoes – Spiked or spikeless, it's up to you at this point in the season as the grass will be dry enough for you to wear your most stylish pair of shoes.
As long as you make sure that you've got all the basics listed above covered, you should be set for a full round in the middle of summer. On the other hand, there are some additional pieces of apparel that you can carry in your bag if you want to be ready for any situation.
What to carry in your golf bag in the Summer:
A warmer top layer – Put it on if the shade is abundant, if you start your round early, or finish it later in the day, as it can get pretty chilly in those situations.
UV sleeves – They are growing in popularity and more golfers are starting to consider them. On top of protecting your skin from UV rays, most sleeves will also create a slight compression on your arms to help divert the overwhelming feeling of warmth.
Fall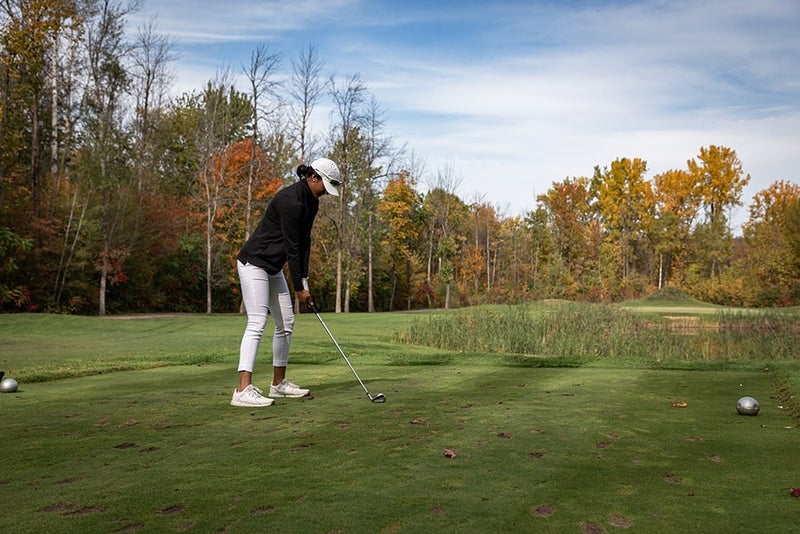 Fall is arguably the best weather for golf. The sun is not scorching hot anymore by that point and the cold breezes of Winter are not blowing yet. While it's certainly the most enjoyable time of the year on the course, the weather and the temperatures that accompany it can be quite unpredictable.
Your greatest key for Fall golf is to look at the weather forecast before heading to the course so that you can prepare accordingly.
What to wear to golf in the Fall:
A regular golf hat or a beanie – Just like in the Spring, which one you'll wear will vary based on the forecast;
A short-sleeved or long-sleeved golf polo – It's really up to you at this point if you prefer long or short sleeves as we suggest you layer up so that you can shed or add layers as the temperatures rise and fall;
A thicker layer – Bring out those ¾ zip-ups, hoodies, crewnecks, it's their chance to shine;
A jacket – It can be your traditional jacket or a pullover shell, but the goal of this layer is to stop the wind from getting inside your layers;
A pair of golf pants – We even go as far as suggesting you wear your thickest pair of pants to keep you warm on the course;
Waterproof golf shoes – Whatever pair of shoes you end up using, make sure to pick a pair that won't let water inside. Wet socks and feet are your greatest enemy in the Fall.
Making sure to cover all the bases listed above will save you a lot of trouble on the course, but the real secret to Fall golf is being prepared for the plethora of temperatures you might have to face. The best way to do so is to wisely pack your golf bag with contents that'll come in useful.
What to carry in your golf bag in the Fall:
Rain gear is a must – Fall is the season for rain and you need to be prepared for this possibility;
An extra pair of socks – Just like in the Spring, you'll find them just as comfortable at the turn;
An underlayer – You might want to wear it from the start of your round, but this underlayer will help keep you warm when you're playing just above freezing conditions.
Winter
For most golfers, winter is a synonym for an extended break away from the course and the transition to indoor simulators. Some luckier golfers get to live in climates that allow you to spread the season over 12 months.
For those who get to play golf during the coldest months of the year, we suggest you take your apparel tips from our Fall breakdown.
What to wear to golf in the Winter:
Southern US – Winter, but US winter, so dress up like you would in the Fall, but no need to go overboard with the layers;
Mid-to-Nothern US – Layer up, strongly consider using underlayers and stacking up those layers;
Northern US/Most of Canada – While most courses tend to be closed, you still might be able to find a few open ones if you look in the right places. In such a case, you'll need to dress warm enough to endure temperatures that can dip below freezing point.
Shop Golf Mittens to Keep Your Hands Warm
For the golfers living in colder climates and still want to head to the course despite the snow (or if you're going to play a round of snow golf), we have some tips on what to carry in your golf bag.
What to carry in your golf bag in the Winter:
A hand-warmer – You can always use the pockets of your jacket to warm your hands, but these hand-warmers can be worn around the waist if you're looking to stuff your hands away from the cold wind.
Hand-warming packets – You can find those in most outdoor clothing stores. You'll be able to power them by cracking them up like a glow stick or using electronically powered rechargeable ones.
We truly hope that this guide helps you dress properly for golf in any condition. As always, these lists are based on our experience from years of playing golf, but they're up to interpretations, meaning that you can make of it what you like. This includes changing some pieces of apparel to your liking.
Finally, before we let you go, we suggest you take a look at our top 10 list of accessories you should always carry in your golf bag.
Until next time,
The Golf Avenue Team