Top 5 Summer Golf Outfits for 2022
Everyone wants to look their best whenever they're out on the golf course. With so many outfit choices from top brands like Nike, Adidas, and Puma, it can be pretty difficult to find the right one for you.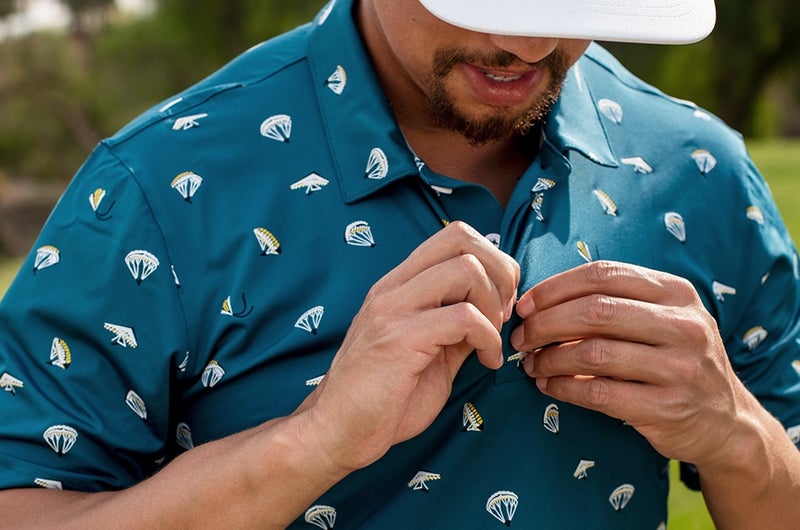 Lucky for you, this guide is designed to offer you five complete golf outfits for golfers everywhere. Whether you're new to the game or an experienced golfer with many seasons of experience, you'll be sure to find an outfit that'll be right for you this summer.
The outfits covered in this article:
Outfit #1 – Swoosh Special
Outfit #2 – Adidas Armada
Outfit #3 – Puma Pride
Outfit #4 – Chasing Glory
Outfit #5 – Let the Ladies Play!
Swoosh Special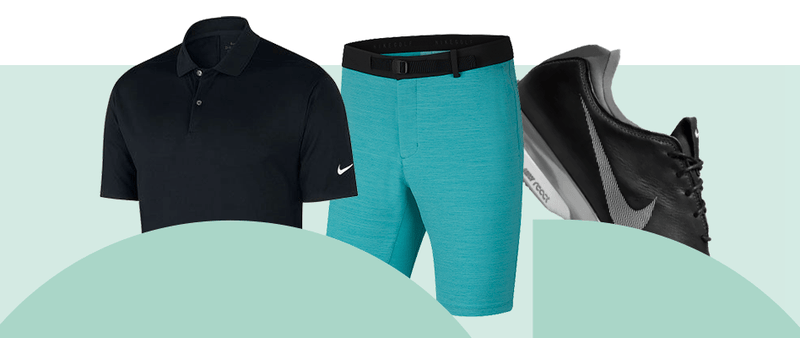 Nike is perhaps the most popular golf brand when it comes to clothing. Some of the biggest names in the golf world play under the Nike banner, including names like Tiger Woods, Rory McIlroy, Brooks Koepka, Jason Day, and Tony Finau.
This is not surprising as Nike makes some of the nicest looking and most comfortable golf clothing. Whether you're looking for an iconic "TW" hat or the traditional single swoosh logo, you can't even go wrong with Nike apparel.
The Swoosh Special apparel is inspired by the sleek looks that Nike-sponsored pros usually sport on Sundays when they show up to the afternoon tee times, usually reserved for the leaders. Bringing together a modern fit with a touch of traditional class.
How to recreate the look:
Adidas Armada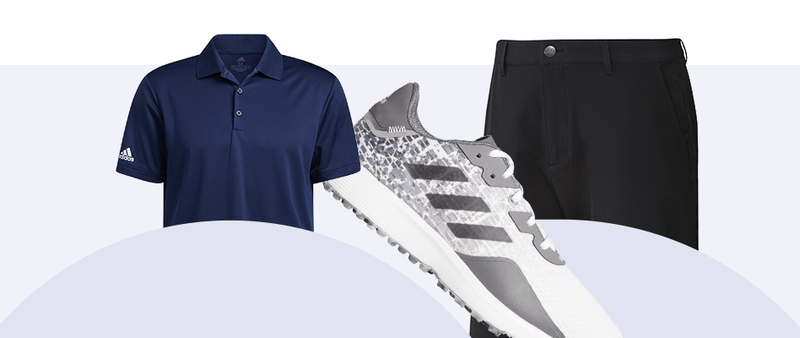 Closely rivaling Nike, Adidas has also managed to build quite a reputation for themselves on the professional tours by assembling an all-star stable of golfers which includes players such as Collin Morikawa, Dustin Johnson, Xander Schauffele, and Joaquin Niemann.
Adidas has long been synonymous with class and they've managed to bring this class to the golf course by creating some of the classiest, yet most comfortable, golf outfits. Making the most out of their three-stripe design, Adidas apparel is usually a can't miss on the course.
The Adidas Armada outfit is inspired by the clean-cut looks that Adidas has been providing for golfers everywhere over the past few years. Unified color solid designs are the basis behind the Adidas Armada look.
How to recreate the look:
Puma Pride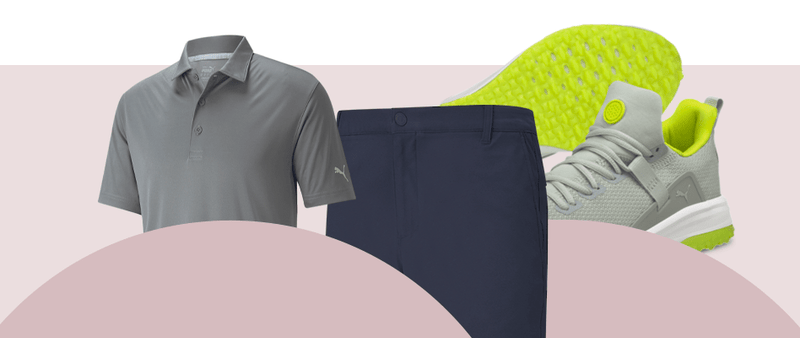 Puma was all the rage amongst golf fans about a decade ago when Rickie Fowler strolled out in his orange-clad outfit complete with orange shoes and bright orange flat brim hat. With Fowler's star slowly fading over the years, Bryson DeChambeau has now become the face of the brand.
Bryson's reign as Cobra's head athlete has also brought forward a transition for Puma and golf clothing. Though it is still one of the most extravagant brands on the course, Puma has scaled back from the bright orange Fowler days to provide more clean-cut options for golfers everywhere.
The Puma Pride outfit takes after the latest Puma trend of combining classy and clean-cut fitting clothes with lively colors and design patterns. While not quite as bright as Fowler's old outfit, golfers wearing the Puma Pride outfit will be sure to stand out on the course.
How to recreate the look:
Parisi Golf Party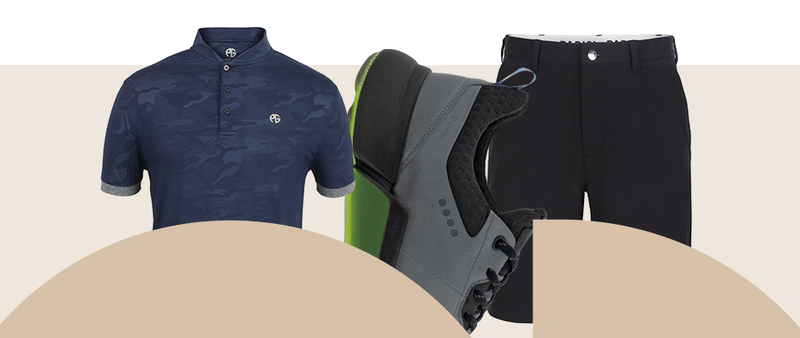 Brand-new on the golf scene, Parisi Golf doesn't need to rely on the reputation of players on professional tours to showcase the quality of their products. Instead, they prefer to let their clothes do the talking for them.
Inspired by the clean-cut look that is returning in full force to the world of golf, Parisi Golf offers high-quality products that'll be sure to fit and please the most hardened of golfers. Plus, golfers who are looking to put together a distinguished golfer look on a budget, will love Parisi Golf.
The Parisi Golf Party outfit is inspired by the brand's classy appearance which shines through every piece of clothing they produce. The party aspect of the outfit comes from the fun that only golfers can have when they're out on the course with some great tunes and some even better partners.
How to recreate the look:
Let the Ladies Play!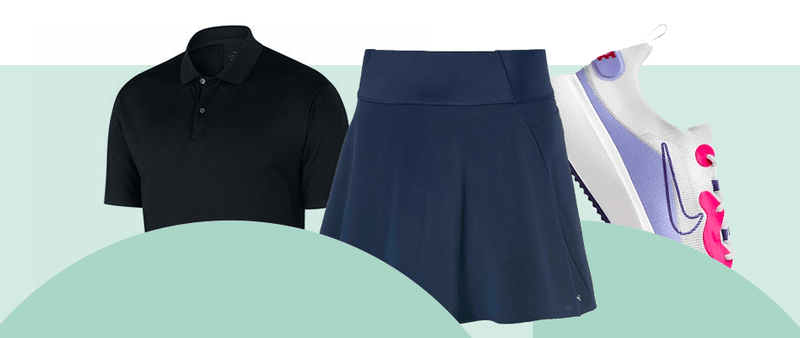 Golf isn't exclusive to men and the top golf brands in the world are well aware of this fact, which is why most of these brands will also design clothes specifically made for women. Nike, Puma, Adidas, G/Fore, J. Lindberg, and all the other top golf brands are marketing more and more to women golfers.
Puma is probably ahead of any other brand when it comes to women's golf fashion. With Lexi Thompson as their main athlete, Puma can to design products that are specifically designed with women's golf performance in mind.
The Let the Ladies Play outfit is a mix of different quality golf brands in an attempt to create the most comfortable, yet classy, outfit. Be sure to knock them dead next time you step up to the first tee to play your round.
How to recreate the look:
Regardless of your usual look outside the course, golf allows you to let your personality shine through the clothes you wear while playing. Whichever outfit you end up picking, you'll be sure to find something comfortable that'll help you look your best on the course!
Until next time,
The Golf Avenue Team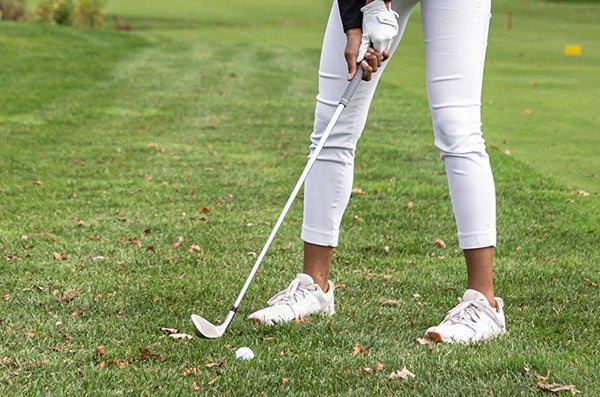 What clothes should you wear to golf? What about during spring, summer, fall, and winter? Find out what to wear in our seasonal guide on how to dress for golf.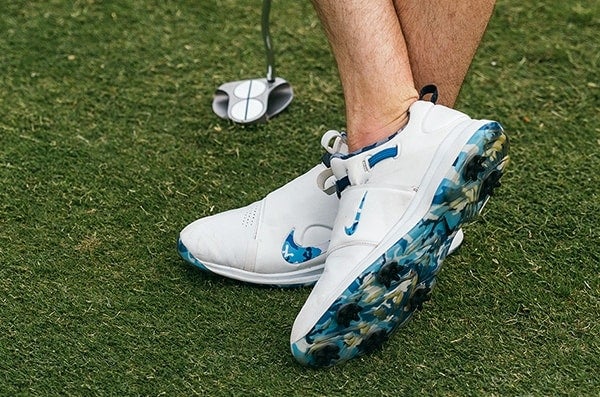 When you have to walk 18 golf holes, you want to be wearing the best golf shoes possible. Let us help you find the perfect pair for you and whether your golf shoes should be spiked or spikeless.