How To Find The Right Golf Bag for You
Having the right golf clubs with you when you're on the course will often be the difference between a great day and a poor one. But just like your clubs, your golf bag needs to fit your needs when you're trying to break your personal best.


With so many options to choose from, picking the right one for you can be somewhat confusing. This guide aims to help you understand the difference between the various types of golf bags, on top of finding which one is best for you.
Stand Bag
Cart Bag
Staff Bag
Sunday Bag
Travel Bag
10 Essentials to Always Pack in Your Golf Bag
Stand Bag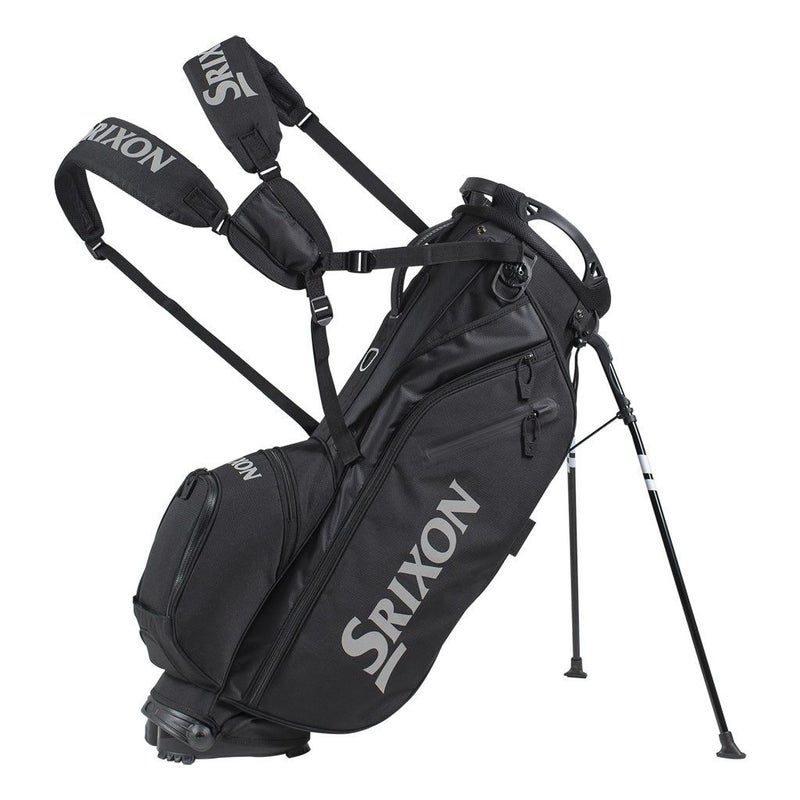 As the name suggests, this bag's main feature is its ability to "stand" next to you while you're playing. They are usually held up by two legs which will pop out of the backside. When you lean the bag in the right direction, the support legs will be triggered by a mechanism located at the bottom of the bag.
The stand bag is the perfect basic bag for the everyday golfer. It is truly designed for golfers who like to walk and carry their own bags. The straps, usually located on the opposite side of the support legs, will help you carry your bag along as if you were carrying a school bag.
Shop The Srixon Z Stand Golf Bag
The best stand golf bags from top brands like TaylorMade and Titleist, have all equipped their stand bags with a cushion on the side to help ease the stress on your back when you're carrying it. These bags are designed with the sole purpose of being easy to carry around in any circumstances as most of them are waterproof and built with lightweight materials.
On top of being designed for carrying, this type of bag can always be used on a push/pull cart or on a regular golf cart.
Cart Bag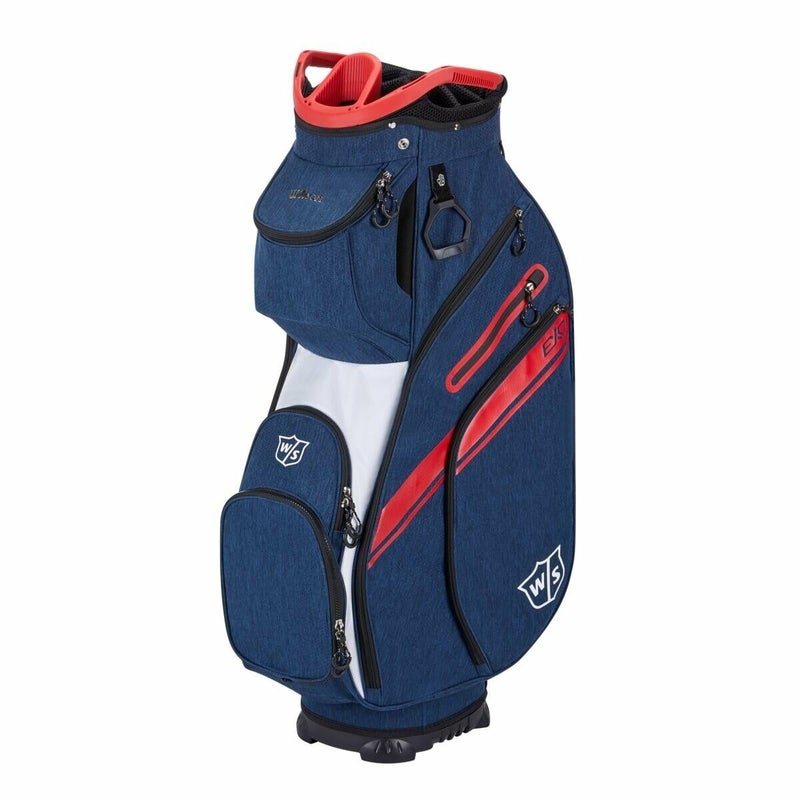 The cart bag bridges the gap between the smaller stand bags and the massive staff bags carried by the caddies of pro golfers during their rounds.
The main perk of the cart bag is the extra storage space that it provides against the stand bag. Most cart bags are equipped with pockets on all sides, except the back of the bag which is expected to be leaned against a push cart or the trunk of a golf cart.
Shop The Wilson Exo ll Golf Bag
The best cart golf bags will be equipped with a carrying strap that will run along the back of the bag. While you can certainly use the strap to carry your bag, you should limit yourself to carrying it from your car to the golf cart or prop it on your own pushcart.
If the cart bag is the right one for you as you feel that you can utilize all of its storage space, understand that if you're looking to enjoy your golf rounds, you'll need to rent a golf cart or a pushcart, or you could even invest in your very own pushcart so that you're always ready for action.
Staff Bag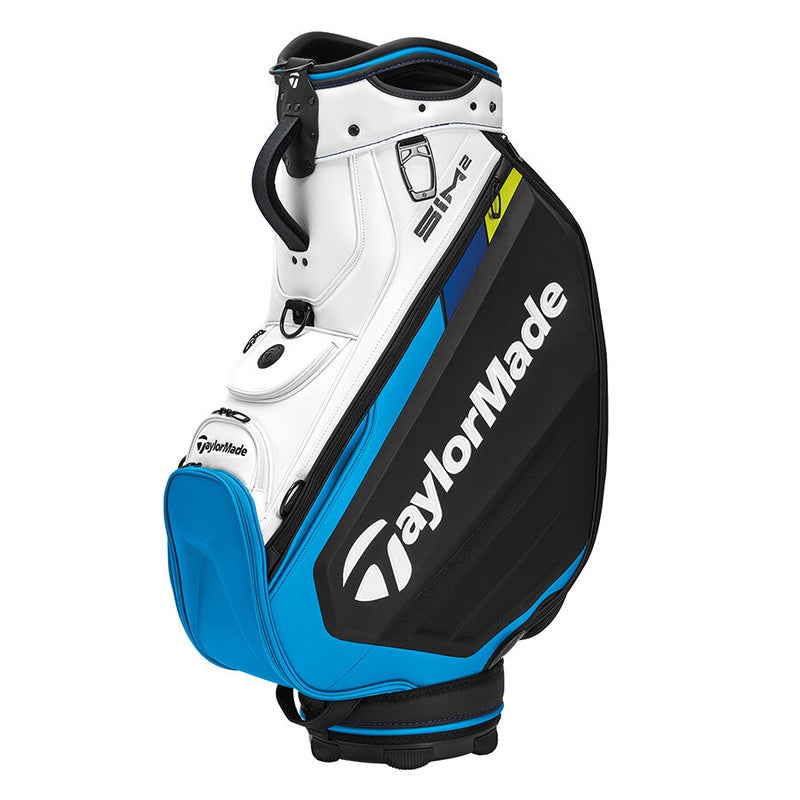 It is the designation used for the biggest bags on the market. These are the same bags that pro players use during their official events with a caddie. As you can imagine, these bags are the ones that have the most storage space with their massive pockets.
The amount of storage it can hold is certainly the biggest perk of staff bags and a big part of the reason why the pros choose these bags. To be fair, their looks are a big part of it as these bags offer a big canvas for designers usually gives these bags the best looks on the golf course.
Shop The TaylorMade 2021 Tour Staff Golf Bag
It must be said that if you're looking to buy a staff bag, it is strongly suggested that you use a caddie when playing, or that you set your bag up on a golf cart or a push cart. This is due to the fact that a full staff bag can reach up to 40 pounds and is quite difficult to carry as it features a single strap for carrying.
If looks and storage are what you're after, this will be the option for you.
Sunday Bag (or pencil bag)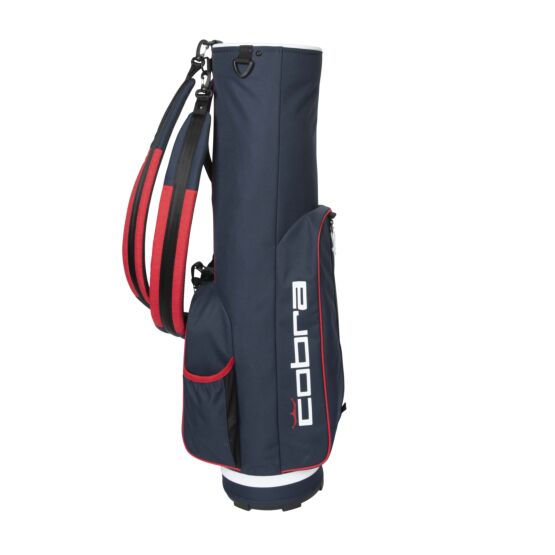 Probably the least renowned bag of them all, the Sunday bag is often overlooked by the average golfer because of its simple design. However, its simplicity is its biggest perk, especially for experienced golfers who like to walk the course but don't need to carry much.
Indeed, it is not designed to carry all the regular accessories you would normally put in your bag. Its purpose is to carry your clubs, a very limited amount of tees and balls, some will even be fitted with a slot for your water bottle.
Shop The Cobra Ultralight Pencil Golf Bag
The whole point of this bag is to be as light as possible so that your experience walking and carrying is easy as possible. If you tend to lose a lot of balls during your round, be sure to plan a refill at the turn as these bags can only hold a limited number of items.
If the weather forecast calls for rain, or if you're aware that the course will be damp, make sure to go with another option because you'll need to leave the Sunday bag on the ground while you're playing your shot as it's not equipped with extendable legs.
Travel Bag
Quite simply, you'll never see someone playing with a travel bag out on the course. The reality is that a travel bag is not a playing bag. As its name suggests, it is made for traveling, which means that you'll be putting your main bag inside the travel bag to protect your clubs from damage while traveling.
Shop The Cobra Crown Rolling Club Golf Bag
Although the travel bag is meant to protect your gear from harm while you travel, there are other steps you can take to better your chances of preventing any damage.
This includes packing your clubs close to one another in your bag and filling the empty spaces in your travel bag which soft fabrics to avoid any direct impact on your clubs while they are traveling with you.
Whichever bag you end up choosing, you have to be sure that it caters to your needs and your habits when you're going out for a round.
If you only play once in a while and you never know whether you're going to walk or ride the cart, go with the versatility of the stand bag.
If you know that you're always using a push/pull cart or riding in a golf cart, go with the cart bag.
If looks and storage are what you're after, the staff bag will be the option for you.
If you're a purist and love to walk the course, pick up your Sunday bag and enjoy your stroll out on the course.
Finally, if you're a golfer who likes to travel a lot with your own clubs, you should strongly consider the travel bags as they may be the difference between your clubs showing up in one piece or crooked.
There is no doubt that one of these golf bags will do the job for you. You simply have to make sure that you realize what your on-course habits are and that you give the weather forecast a little look. This last factor will play an important part in your decision on what bag you'll be using that day.
Until next time,
The Golf Avenue team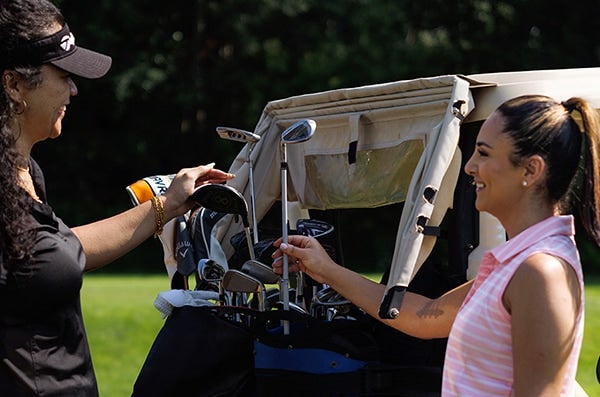 Checklist for women golfers of all the essentials a beginner needs for their first round of golf. Find what golf clubs, golf bag and accessories you should have.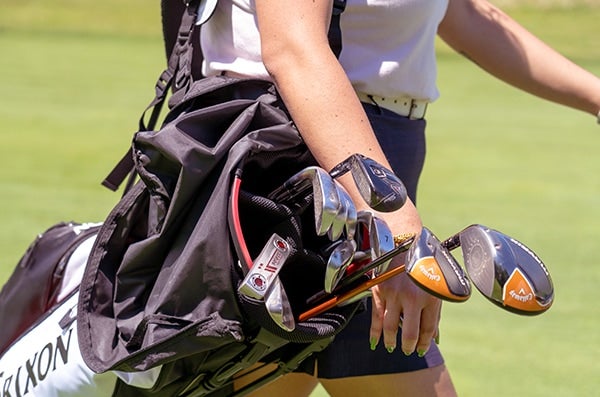 Need to build a complete set of quality golf clubs under budget? Our monthly buying guide is perfect to help all golfers and beginners find clubs at low prices.