How to Build your First Golf Set
One of the most intimating things when it comes to golf as a beginner is putting together a golf bag with golf clubs suited to you. Most of these beginner golfers will have a hard time deciding where to start and what should be their priority when putting together their first set of golf clubs. Lucky for them, we have the answers to their questions.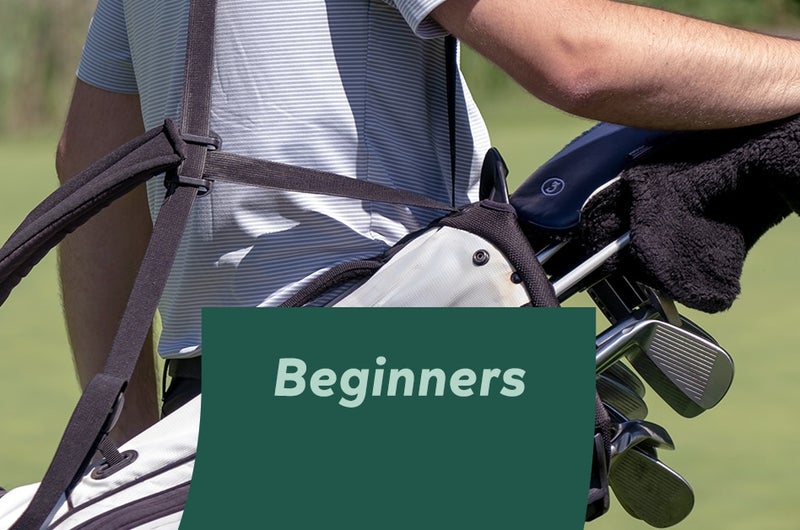 Whether you want to shine with a fancy driver, you want to be able to rely on game-improvement clubs, or want to get your hands on the nicest putter possible, every option is available to these beginners, but if you've never put a set of clubs together in your life before, this will eventually get chaotic for you.
Because we want you to avoid all this confusion, we came up with a detailed guide showing you how to put together your first golf bag. This guide will even provide you with three different player scenarios so that you can take inspiration from one of them and their set.
This beginner golf set guide will cover:
What you should have in your beginner golf set
How to prioritize the clubs in your set, based on budget, performance, or looks
Suggestions you should consider for your first set of clubs
What are the must-have golf clubs for a beginner golfer?
A beginner golfer's club set needs to include a set of at least five irons, two wedges, a putter, and a wood. With a set of nine or 10 golf clubs, any beginner should be able to play 9 holes or even a full 18-hole round.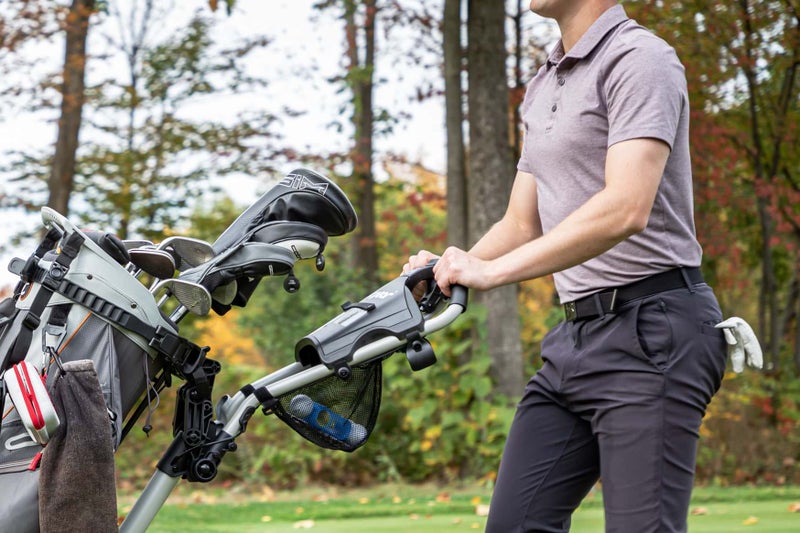 A set of irons: Necessary to play most of your second shots and on par 3's
One or two wedges: Ideal for high-arching shots
A putter: Your go to golf club on the greens
A wood (Driver or fairway wood): Perfect to hit the ball off the tee
There are a lot of variations that can be applied to this set of clubs to suit your needs better (which will be covered shortly). But this lineup of golf clubs should be the base minimum for a beginner golfer.
More experienced golfers will notice that some clubs are missing from the allowed limit of 14. That is because this guide has the objective of keeping the decision-making aspect of the task as simple as possible for beginners. By reducing the necessary number of clubs in the set, the decision-making aspect is made simpler.
How to prioritize the golf clubs you need
Beginner golfers who are looking to build their set of golf clubs will need to establish what they will prioritize between budgeting and performance. If budget is your priority, start with the most expensive golf clubs and finish with the least expensive ones, and if performance is your priority, look for the best clubs possible while remaining within your budget.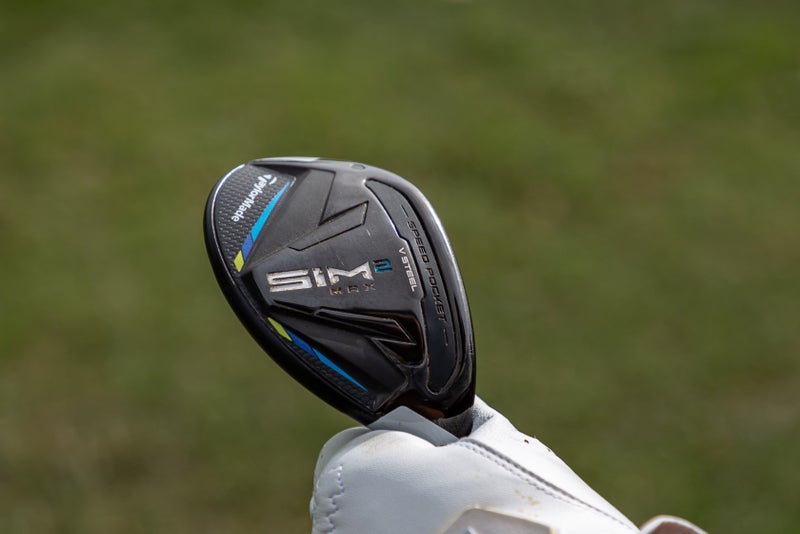 Three different ways to build your set of golf clubs:
Prioritize budget
Prioritize performance
Prioritize looks
How to build a set of golf clubs when prioritizing budget
Golfers looking to build their set of clubs with their budget restrictions at the top of their minds will follow a very simple formula based on price priority with the most expensive clubs, the irons, going first, followed by the rest of the items, based on their usual price point.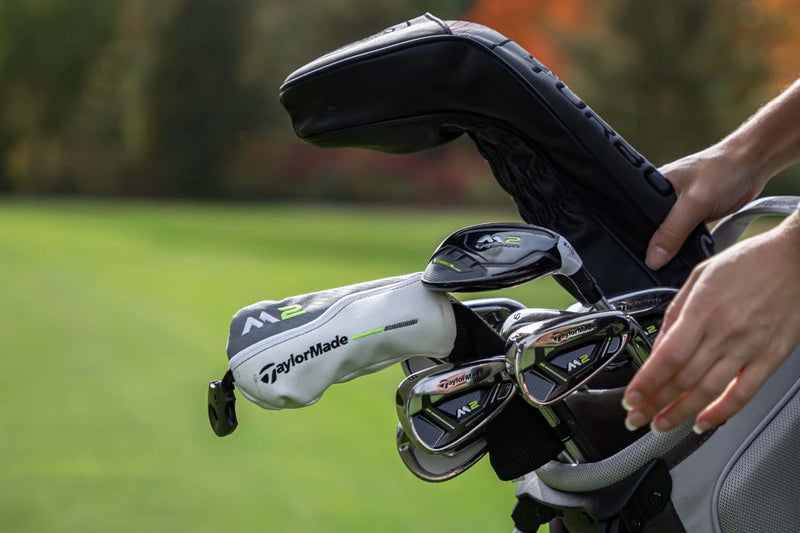 When prioritizing your budget, start with buying your:
Iron Set
Wood (Driver or Fairway Wood)
Wedges
Putter
Any other golf clubs
You'll want to start with the most expensive part of your club set, the irons. Iron sets have an immense range of prices with older models coming in for less than $100 and some brand-new sets are priced at more than $5,000.
How much money should you spend on an iron set?
Depending on your budget, you should consider investing between 35 to 50 percent of its entirety on your iron set. Keep in mind that your irons will represent close to 50% of the clubs in your bag, which is why it takes up so much of your budget. You are free to dedicate more money to your irons, but you'll reduce your budget for the rest of your clubs.
After your irons, you will most likely be picking your wood. These clubs tend to have a steep price, but older models will be available at a more reasonable price. Keep in mind that the more you spend on your driver, the less budget you'll have for your other clubs.
Following your wood, you're now looking for a wedge or two, depending on the iron set you bought already. Most iron sets will be packaged with a matching pitching wedge. If that is the case for your iron set, you'll simply need a wedge with a higher loft angle, something like a sand wedge.
Finally, you'll want to invest in your putter with whatever money you have left on your budget. You'll usually be able to find a putter for less than $50. That putter will likely be a few years old, but out of all the clubs, the putter is the one that will last the longest, even when compared to newer technologies.
If your budget allows for it and you want to build yourself a complete 14-club set, we suggest you add another wood (a fairway wood if you picked a driver already, or vice versa), a hybrid, and a wedge or two. If you still have room for one more club, you'll get to pick between a long iron or another hybrid.
How to build a set of golf clubs when prioritizing performance
If you're looking to build a set of golf clubs on a budget, but performance is your priority, you'll want to follow a similar shopping structure as the golfer whose sole focus is budget. Amongst the changes, the order of the golf clubs and the motive behind the purchase of every golf club.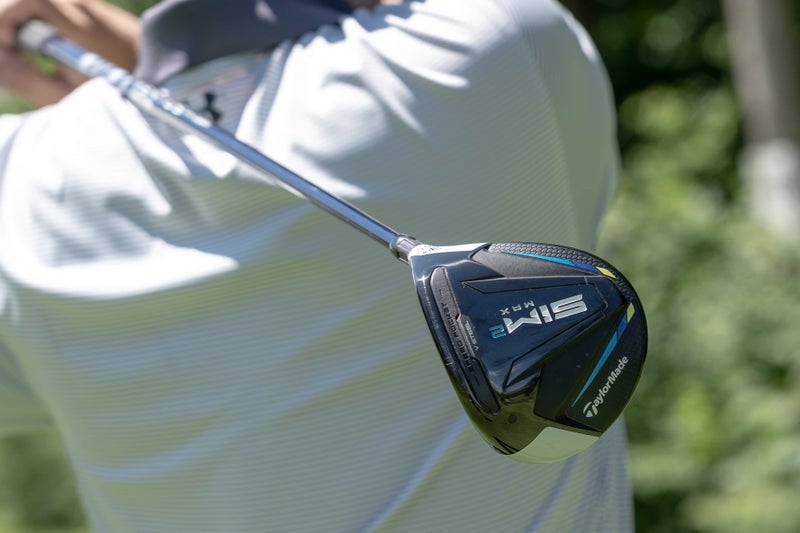 When prioritizing performance, start with buying your:
Putter
Iron Set
Wedges
Driver
Fairway Wood
Hybrid
If you're looking to focus on performance, you'll want to focus on your putter first of all. It's the only club you'll use on every single hole unless a miracle happens, which means that you need to make sure that you can invest in the right putter for you.
Having the right putter in your golf bag will make a major difference not only on the green but on your scorecard as well as you'll feel more accurate than ever with your putter in hand.
The second type of clubs that you should consider adding to your set are the irons, especially if performance is your focus. Your irons make up around 50% of the contents of your golf bag, which means that you'll be using them a lot on the course. Your longer irons will naturally get less play, but you'll be glad that you've invested in quality irons, suited to your performance, when you use your short irons.
You'll then want to turn your attention to wedges. The key when shopping for wedges, when performance is your priority, is to look for clubs that still have relatively fresh grooves that are not showing too much wear and tear. Spin is your priority with wedge performance and the better the grooves, the more spin you're likely to produce.
After you've taken care of your putter, irons, and wedges, it's finally time to take a look at the driver. The reason why it is so low in the order of priority is that your driver is not as key to your performance on the course.
Yes, a bad day with the driver can have an impact on your scorecard, but you also have the option of leaving it in your bag for the day and turning to more conservative options that will keep you in the fairway.
Fairway woods and hybrids come last in the order because they are not as necessary for golfers. You can certainly get around without them, but if you opt to add them to your bag to complete it, make sure to prioritize the rest of your clubs before taking care of your fairway wood and hybrids.
How to build a set of golf clubs when prioritizing looks
If looks are a priority for you when you're on the golf course, the order in which you buy your golf clubs won't have as much of an impact. Instead, golfers who choose this option will prioritize the choice of their clubs based on which stands out the most and catches the eyes of the other golfers in your group.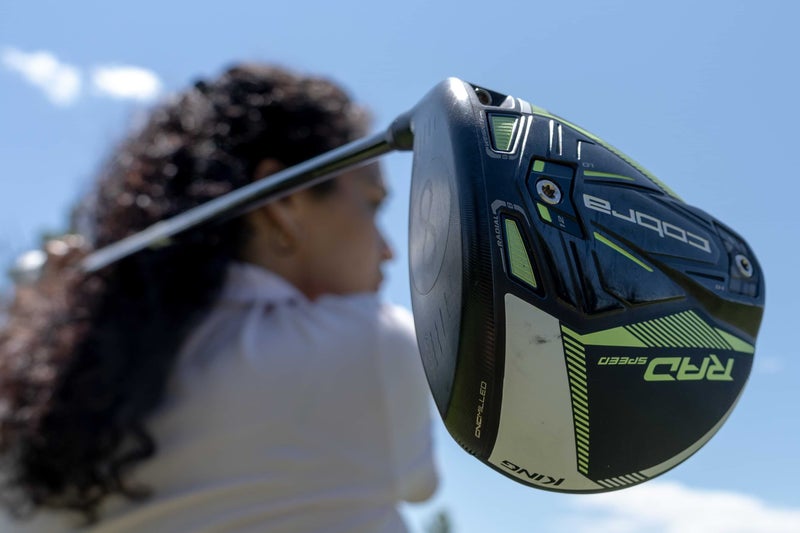 When prioritizing looks, start with buying your:
Driver
Putter
Irons
Wedges
Fairway woods and hybrids
If you want to attract the eyes of the other golfers on the course, you need to start at the top of your bag, and that is your driver. Keep in mind that since you still need to stick to a budget, you need to set yourself a limit before you choose a driver.
Depending on your budget you can set aside up to 40% of your budget for your driver. This should allow you to pick up a pre-loved driver from a few years ago that could still pass for a model of the year and that will deliver performance that will closely match the latest products on the market.
With the driver taken care of, you can now turn to another eye-catching piece of equipment, the putter. Golfers who need to stay within a certain budget won't be able to afford some high-end models, but they'll still be able to find some beautiful pre-loved putters at an affordable price.
With the two most eye-catching clubs taking care of, you'll want to focus on the bulk of your set with your iron set.
If you're lucky, you'll find a relatively released set of irons at a discounted price, but more than likely, if you've spent a lot on your putter and driver already, you'll have to turn to older models which will usually carry a lower price point.
Wedges are next as they are not as likely to catch the eye of your fellow golfers as much as your other clubs. They are usually the shortest clubs in your bag aside from your putter, which also means that your other clubs will be overshadowing them.
Plus, wedges tend to have a very simplistic design that allows them to fit in with almost any set of irons, which in turn means that their looks are not their primary attribute. With the remaining money in your budget, you should be able to find good-looking pre-loved wedges for a bargain.
Finally, if you've got money left, you'll want to invest in a hybrid or a fairway wood, or both! Though they may be amongst the longest clubs in your bag, they're usually not the clubs that'll catch the interest of your fellow golfers. On the other hand, having the right headcovers for your golf clubs might help to give them an even better look.
Budget-friendly club recommendations for a beginner's golf bag
Now that you know in what order to pick the golf clubs for your first golf bag, you're most likely wondering what type of golf club you should look into. Lucky for you, Golf Avenue has got recommendations that can suit your budget and your game.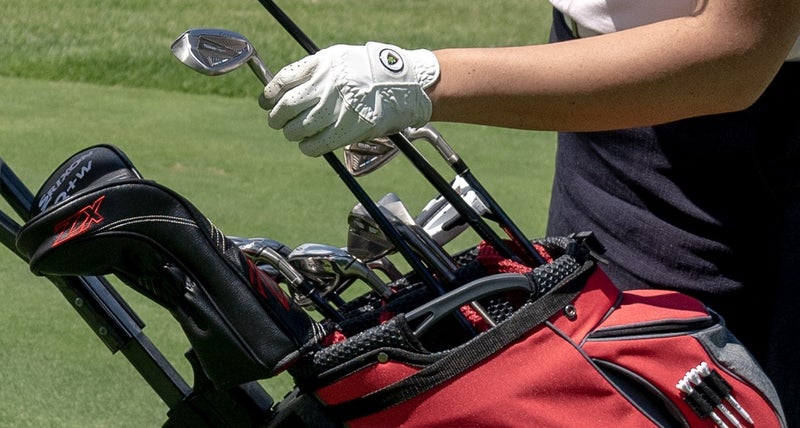 Disclaimer: The prices of the clubs displayed in this article are accurate as of the date of publishing. Sales and promotions can affect the price of the true listing price of a club. Quantities are limited, and the availability of these products is never guaranteed.
Drivers
These driver recommendations for beginner golfers should be able to fit into a reasonable budget, offer a decent level of performance, and have an eye-catching look.
Fairway Woods
These fairway wood recommendations for beginner golfers will fit into any budget on top of providing a perfect alternative to your driver.
Hybrids
These hybrid recommendations for beginner golfers are not only affordable, but they are perfect as the last addition to your bag if your budget allows for it.
Iron Sets
These iron set recommendations for beginner golfers are forgiving irons that should fit the abilities of less experienced golfers while covering a sizeable range in budget.
Wedges
These wedge recommendations for beginner golfers are versatile wedges that could be added to the golf bag of any golfer with a limited budget.
Putters
These putter recommendations for beginner golfers are perfect for anyone looking to add a reliable putter that they'll be able to rely upon for many years to come.
Hopefully, this guide helps you make an informed decision when the time will come to build your first set of golf clubs or to help someone put together their first set of clubs. After reading this guide, you should now be able to know what order is the best one for you to put your set of golf clubs together.
Moreover, if the clubs you've decided on end up being a disappointment, simply don't feel right for you, or you've reached a higher skill level, which requires clubs for a higher level of skill, keep in mind that you can always trade back your golf clubs with Golf Avenue's trade-in program.
Finally, we hope that find the clubs for you amongst our recommendations. If, however, you don't find anything to your liking, be sure to book a call with an expert. They'll be able to offer sound advice for all your clubs, on top of helping you fit all of them into your budget. Plus, if you're also in the market for a golf bag to carry all these clubs, we've also got you covered with a golf bag choosing guide.
Until next time,
The Golf Avenue team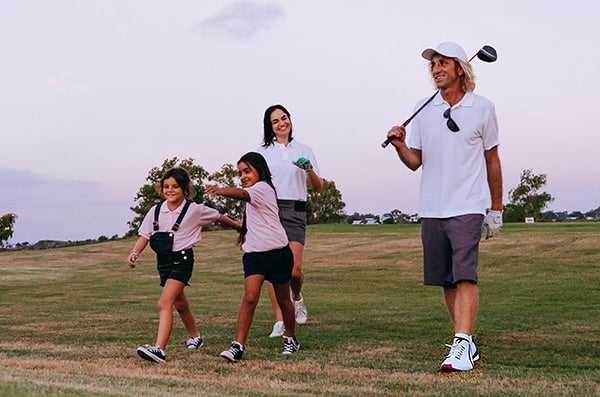 Buying a junior golf set can get confusing and deciding between a pre-assembled set or building one can be even more difficult. Lucky for you, our experts have the answers to all your junior golf set questions on top of letting you know if you should build a set or buy it pre-assembled.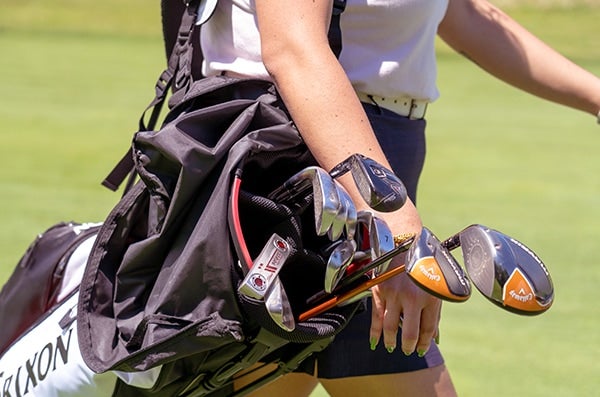 Need to build a complete set of quality golf clubs under budget? Our monthly buying guide is perfect to help all golfers and beginners find clubs at low prices.