Golf Bags – Cart v. Stand: What's Best?
A debate has long been raging amongst golf enthusiasts as to what is the premier option when it comes to buying a golf bag between cart and stand bags.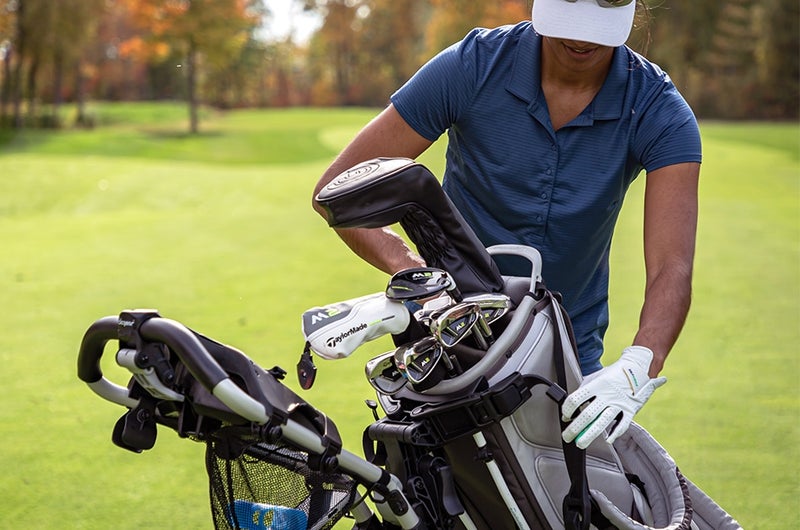 Each option certainly has its perks that will cater to the needs of the average golfer, but since these golfers can only afford one bag, there needs to be a superior option between the two. This guide aims to answer the question: Should you buy a cart bag or a stand bag as your main golf bag?
Cart Bag
Stand Bag
Cart or Stand Bag – What's Best?
Cart Bag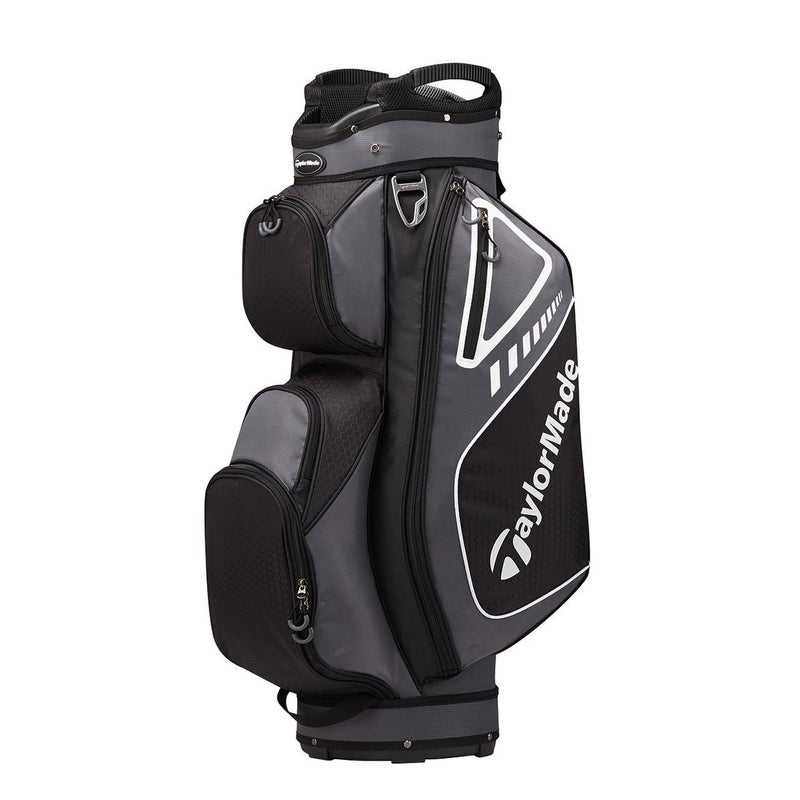 Just like the name suggests, cart golf bags are designed to be mounted on a push or pull cart, or a golf cart. These bags are built with multiple pockets to allow you to put as many accessories, golf balls, or even snacks in your bag.
On top of being able to put as much stuff in your pockets as your heart desires, or as much as the pockets will allow you to, the extra weight added by the content of these pockets won't rest on your shoulders.
Additionally, most of these cart bags will feature a 14-way divider for you to fit all your golf clubs in a specific slot. Avoid the frustration of your clubs not going down the bag after a bad shot. The 14-way divider allows your club to occupy their own space in the bag.
Shop The TaylorMade Select Plus Cart Bag Golf Bag
Perks of the cart bag:
Perfect for golfers using a push cart or the ones who like to ride in the golf cart;
Fitted with as many pockets as possible, except for the side that leans against the cart;
Large pockets that can hold all you could need on the course.
Popular cart bag models:
TaylorMade 5.0 Golf Bag
Wilson Xtra Golf Bag
Cleveland 21 CG Cart Golf Bag
Stand Bag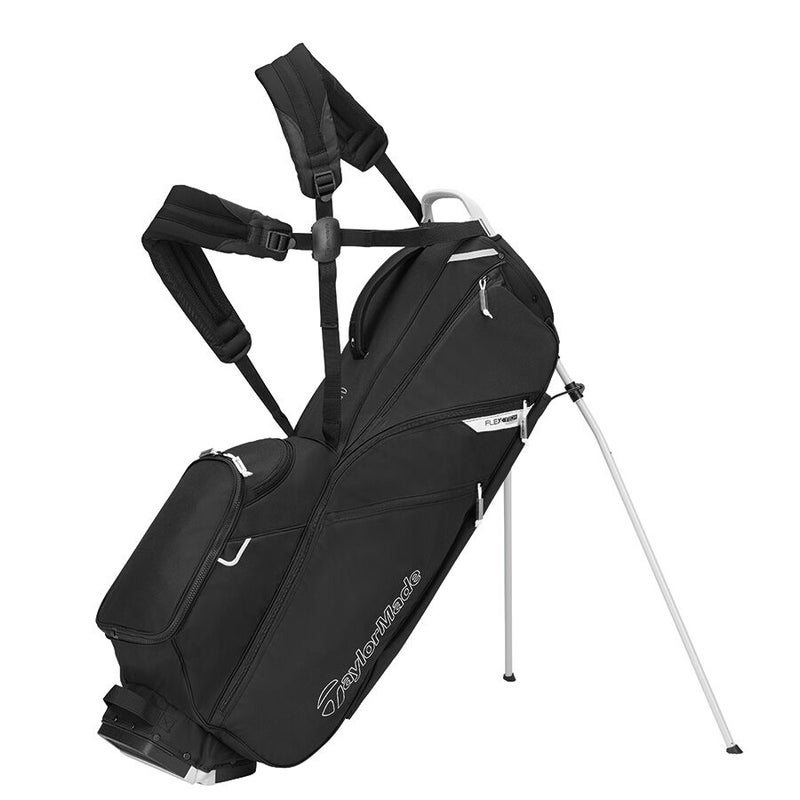 Stand bags are built with lightweight materials so that they can be as light as possible for golfers to carry around the course with a full set of golf clubs in there.
Most stand bags are equipped with a set of legs that will prop out of the backside of the bag when you lean it in the direction of the legs. Thus, the bag can "stand" next to you when you're playing.
There's no denying it, you won't be able to fit as much content in the pockets of these bags, and you should try to avoid overloading your bag as it'll make your round much harder because of the extra weight you'll need to carry.
Make no mistakes though as these bags are equipped with enough pockets for you to carry all your essentials such as golf balls, tees, a water bottle, additional clothing layers, or anything else that can fit in your bag's main side pocket.
Shop The TaylorMade 2021 FlexTech Lite Golf Bag
Perks of the stand bag:
Carry your bag wherever you like with the carry straps;
Stands on its legs next to you when you're hitting;
Lightweight build to reduce the weight you'll need to carry.
Popular stand bag models:
TaylorMade 2021 FlexTech Lite Golf Bag
Wilson Eco Golf Bag
Srixon Z Stand Golf Bag
Cart Bag v. Stand Bag – What's Best?
Still unsure about which is best for you? The only way to find out which one is best is to put them up against each other in five key aspects that need to be considered when shopping for a golf bag: versatility, ease to carry, stocking capacity, longevity, maneuverability.
Versatility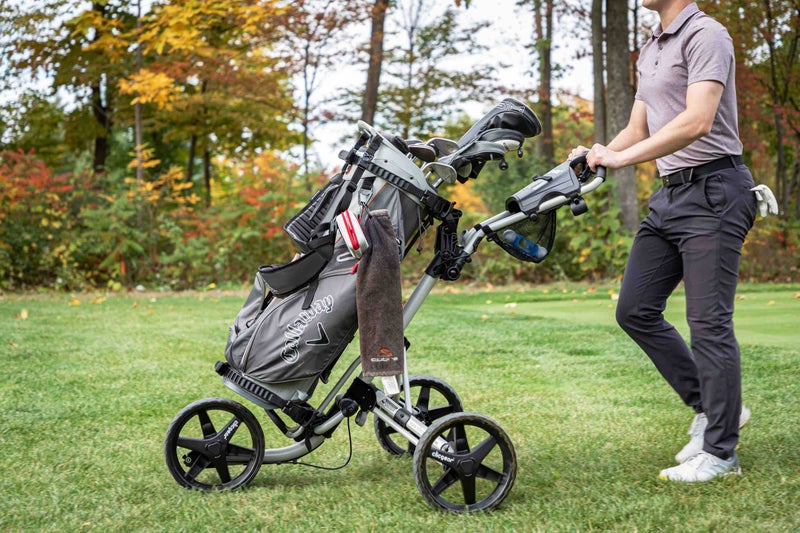 Cart Bag
Cart bags will show their versatility in their ability to be mounted on any cart, whether it's a push or a golf cart. They're built to be propped up on those carts and will adapt to any of them. This is pretty much where versatility stops for cart bags.
Stand Bag
Versatility is perhaps the greatest perk of stand bags as they are designed with the primary intention of being carried over your shoulders like a backpack, but they can just as well be mounted on push carts or golf carts. Simply put, they are designed to adjust to any situation you'll encounter on the course.
Winner: Stand Bag
Ease to carry
Cart Bag
Most cart bags will be equipped with a single strap that runs along the backside of the bag. This strap is mostly designed for you to move your bag from your car to the bag deposit site or on a cart. Plus, this strap can be removed if you want to avoid having it dangling around.
It must be said that you can use this single strap to carry your bag around the course, but since the bag is not designed for this purpose, you'll want to avoid such a situation.
Stand Bag
The main purpose of a stand bag is to be easily carried by the golfer who's using it. Most of the new stand bags on the market are built with lightweight materials so that you can minimize the weight you'll need to carry on your back and shoulders.
Also, the shoulder strap system is much more elaborate on stand bags than on their cart bag counterparts. Instead of a single strap system, they'll usually feature a double strap system, similar to a school bag.
Winner: Stand Bag
Stocking capacity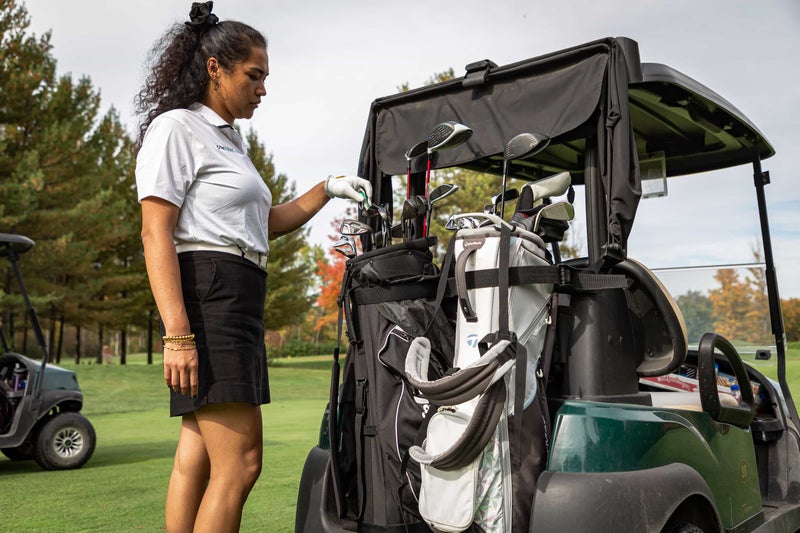 Cart Bag
This is where cart bags will shine as their main purpose is to be able to hold as much content as possible in their multiple pockets. The number of pockets and the amount of content you can store in them will vary from one bag to the next, but will always feature more pockets than most stand bags.
Stand Bag
Stand bags' capacity to stock accessories, golf balls, tees, or anything of the sort is often limited by the fact that they need to balance it with comfort and the weight that it adds on the shoulders of the golfers who opt to carry their bag.
They'll generally feature fewer pockets than cart bags, focusing instead on room for the essentials (balls, tees, a water bottle). Some models will be equipped with additional storage space, but this will also be accompanied by more weight to carry.
Winner: Cart Bag
Longevity
Cart Bag
Cart bags are built to be sturdy and serve you for a long time. They tend to use materials that are sturdier than stand bags as weight is not as much of an issue as it is with their counterparts. This also means that these bags are meant to be used for many years.
Plus, since cart bags spend almost the entirety of their lifetime on a push cart, or the back of a golf cart, wear and tear won't take as much of a toll on their condition.
Stand Bag
If you care for your stand bag and you avoid using it too much in terrible weather conditions, it should last you for a good while. On the other hand, it's undeniable that stand bags will have a shorter life span than cart bags, simply because they are built out of lighter materials that tend to be much less sturdy.
Winner: Cart Bag
Maneuverability
Cart Bag
The great thing here is that your cart bag will be as maneuverable as your cart is. If you're riding in a golf cart, you're quite limited as to where you can go with your cart, especially on days where they're limited to the path or at 90-degrees only.
Using a push or a pull cart will allow you to bring the cart closer to where you need to play your ball, but it's still quite limited in certain areas as your cart will most likely not be able to hold onto every inclination on a course.
Stand Bag
The beauty of a stand bag is that it'll go as far as you're willing to carry it. Stuck in a greenside bunker that is on the far side of the green? Head over there with your bag on your shoulders and drop it on its legs right by the sand. This way, you'll have all your clubs handy regardless of the shot you opt to play.
Winner: Stand Bag
Related | Finding The Right Golf Bag For You
As the experiment has shown, stand bags will usually have the better over their cart bags counterpart, but the difference between the two are quite limited.
Some golfers may need more pocket room on the course and will prefer cart bags over stand bags, but the versatility of the latter will always set it apart in the debate between the two types of golf bags.
Until next time,
The Golf Avenue team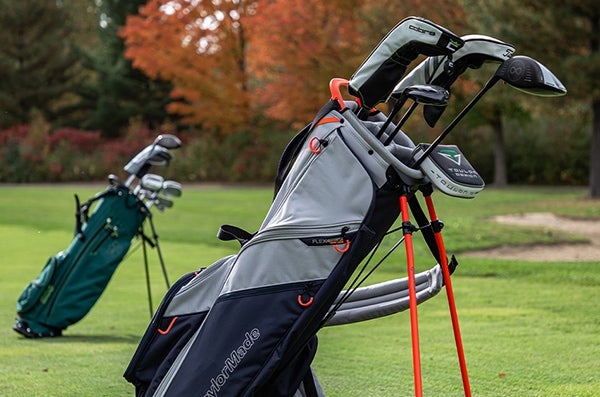 Learn all about golf bags and how to find the right golf bag for you. Get to know the differences between the various golf bag models like cart bags. stand bags, staff bags, Sunday bags, and travel bags.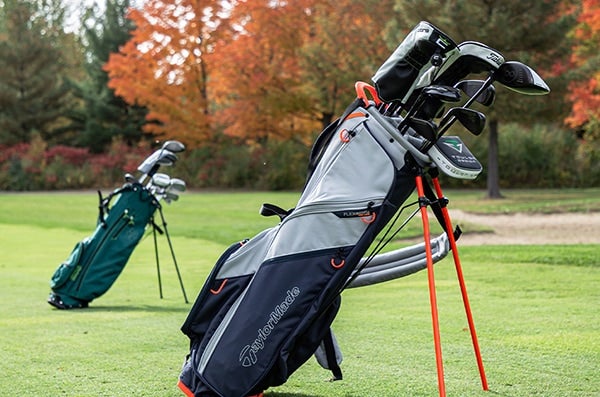 In this article, we break down what you should be carrying in your golf bag at all times, so that you'll always be prepared for what might come at you.